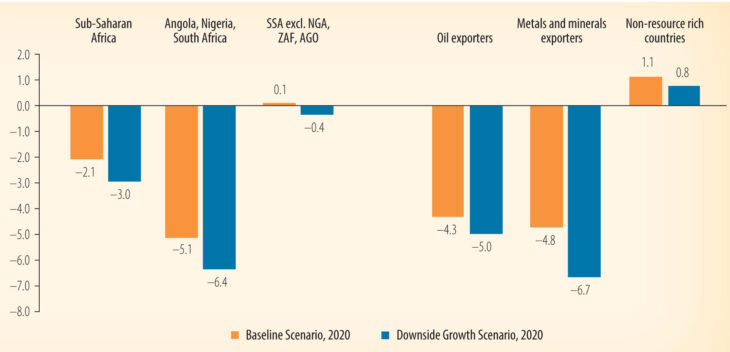 World Bank predicts first Africa recession in 25 years
The World Bank has predicted that Africa may face its first recession in 25 years because of the fast spreading Coronavirus.
The bank says in its statement released Thursday that while the whole world will suffer from the virus, Africa will be hit the hardest.
It has discovered in its Africa Pulse that Africa has been significantly impacted by the ongoing Coronavirus outbreak and its forecast to fall sharply from 2.4 percent in 2019 to -2.1 to -5.1 percent in 2020.
"The analysis shows that Covid-19 will cost the region between $37 billion and $79 billion in output losses for 2020 due to a combination of effects.
"They include trade and value chain disruption, which impacts commodity exporters and countries with strong value chain participation; reduced foreign financing flows from remittances, tourism, foreign direct investment, and foreign aid," the statement reads in part.
It further foretells that while Africa may face the recession, it will be the biggest blow on big economies such as Nigeria, South Africa and Angola because of lack of foreign investment.
Nigeria will be the most vulnerable country because of the impact the pandemic has had on oil producing companies such as the West African's biggest economy.
The bank also prophesies possible food insecurity in Africa with agricultural production potentially contracting between 2.6 percent in an optimistic scenario and up to 7 percent if there are trade blockages.
It says "food imports would decline substantially (as much as 25 percent or as little as 13 percent) due to a combination of higher transaction costs and reduced domestic demand."
The Pulse authors recommend that African policymakers focus on saving lives and protecting livelihoods by focusing on strengthening health systems and taking quick actions to minimize disruptions in food supply chains.
They also recommend implementing social protection programmes, including cash transfers, food distribution and fee waivers, to support citizens, especially those working in the informal sector
Albert Zeufack who is Chief Economist for Africa at the World Bank said "it is important to ensure that fiscal policy builds in space for social protection interventions, especially targeting workers in the informal sector, and sows the seed for future resilience of our economies."
Malawi has registered 8 cases and 1 death of the pandemic which started in the city of Wuhan in China.
Let us know what you think of this update and remember to add us on our facebook and follow us on our twitter. Make sure to come back daily for more Malawi business news updates.
Quick Links: Malawi Radio Station Frequencies | Where To Eat In Malawi | Download Business eBooks | Ten Signs You Are An Entrepreneur | What is a Managing Director?
Today's top business story: Top Commercial Banks In Malawi
Source Link
Latest posts by Vanessa Banda
(see all)