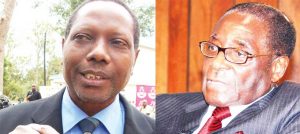 'Zimbabwe politics can affect Malawi'
An economic commentator, Ben Kalua, has said the resignation of Zimbabwe's longest serving president, Robert Mugabe, could have a negative impact on the local economy.
Kaluwa based his assertions on the long-standing trade partnership the two countries have enjoyed over the past few years and said the economy may be affected if there are significant policy changes in areas of trade and migration.
"Zimbabwe, just like Zambia, is a critical partner for Malawi. Any happenings in Zimbabwe or Zambia have a bearing on Malawi.
"However, the level of impact would depend on how policies will change after Mugabe," Kalua said.
Figures from the Zimbabwe National Statistical Agency (Zimstat) showed that between 2014 and 2015, Zimbabwe imported goods worth $45 million from Malawi.
During the same period, Malawi imported goods worth $6 million from Zimbabwe, resulting in a trade balance of $39 million, in favour of Malawi.
Zimstat said Malawi's exports to Zimbabwe included sugar, rice, oilseed, natural rubber, sorghum and groundnuts.On the other hand, Malawi imported coal, iron steel, cement, fabricated construction materials, trailers, leather, processed food and pesticides, among others, from Zimbabwe.
Mugabe resigned on Tuesday, bringing an end to 37 years of rule, a development that sparked celebrations in Zimbabwe.
Mugabe said the decision was voluntary and he had made it to allow a smooth transfer of power.
(Visited 49 times, 49 visits today)
Latest posts by Vanessa Banda
(see all)