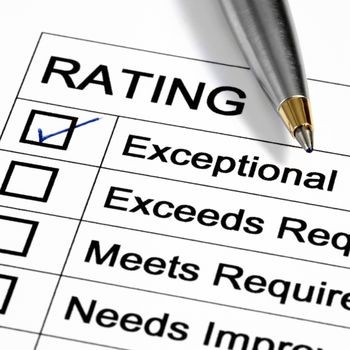 Employee Performance Review Form
Hello, on this page you will be able to easily download an employee performance review form for your company and we are offering it to you for free, why? Because not everything in this world needs to costs you money.
Download Employee Performance Review Template

Top 5 Employee Review Checklists
Strengths: Include 2 – 5 areas of strength, describe supporting examples (be specific), identify the positive impact (show the employee how the strength adds value) and connect the strength to a competency (you should develop 6 – 8 performance competencies that describe expected performance and behavioral standards in your organization).
Areas for Development:  Include 1 – 3 areas for growth for this individual.  Think about the one area that if developed would have a positive impact on the employee's future contributions.  Describe what it is you want to have happen.  Describe the specifics (what would it look like).  Describe why developing this performance area is important/how it will add value.
Goals:  Areas for development should be translated into goals that are SMART (Specific, Relevant, Attainable, Relevant, Time-Bound).
Review Previous Goals/Objectives:  Create an area to review past goals and objectives. Use your judgement for where this should be placed on your form. Most likely you will want to review this first. Be sure to update the goals when objectives and work priorities change. With the pace of change in the workplace today goals can get stale quickly!
Document Name:  Aside from being from the post industrial era, the terms Evaluation, Appraisal and Review strike fear into the heart of most managers and employees. For a more collaborative employee centric form title we use the term Performance Conversation & Planning Map. Experiment and see what you can come up with.
Latest posts by Wisdom Mayuni
(see all)