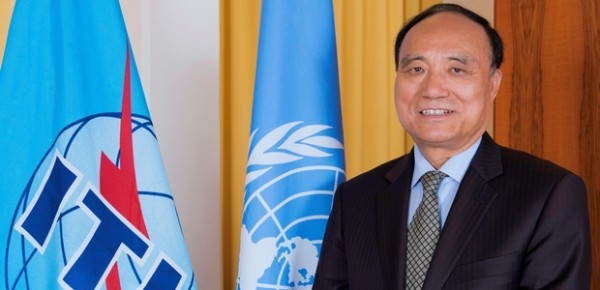 Houlin Zhao elected next ITU Secretary-General
ITU's 19th Plenipotentiary Conference roundly endorsed Houlin Zhao of China as its next Secretary-General. Zhao will take office on 1 January 2015 for a term of four years, with the possibility of re-election for one additional four-year term.
The election took place in Busan, Republic of Korea, during the Plenary session of the PP-14 conference this morning. Zhao won the position with 152 votes, from 156 ballot papers deposited. He contested the position unopposed.
Addressing the conference after the vote, Zhao told some 2,000 conference participants from around the world that he would do his best to "fulfil ITU's mission, and, through our close cooperation, ensure ITU delivers services to the global telecommunication and information society at the highest level of excellence."
Zhao is a respected telecoms engineer with over 30 years' experience in the international environment. He currently serves as ITU Deputy-Secretary-General (DSG), a post he has held since January 2007 after being elected by ITU's 2006 Plenipotentiary Conference in Antalya, Turkey. He was re-elected for a second four-year term at ITU's 2010 Plenipotentiary Conference in Guadalajara, Mexico.
In his two terms as DSG, Zhao has charted a steady course for the organization, pioneering new initiatives to expand ITU membership to the global academic community, and proactively implementing efficiency improvements in human resources management and financial administration. He is well-known and well-regarded by the global ICT community, both for his technical expertise and his commitment to digital inclusion for all.
Prior to his role as Deputy, Zhao served two elected terms as Director of ITU's Telecommunication Standardization Bureau (TSB), the part of ITU most concerned with developing global technical standards to ensure worldwide interoperability of information and communication equipment and software. Before that, he was for 12 years a Senior Counsellor with TSB, and its former incarnation, CCITT.
Latest posts by Wisdom Mayuni
(see all)