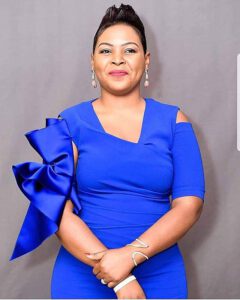 Mary Bushiri is a Malawian preacher and accountant born on August 23rd 1981.
Mary Bushiri Facts
About Mary Bushiri
Mary Zgambo Bushiri is an accountant and preacher for the ECG church and she is the oldest in a family of four siblings including being the older sister of Malawian artist Gwamba. Before focusing on her preaching, she worked for non-governmental organisations as an accountant. Mary Bushiri and Prophet Shepherd got married in July 2011 before a large crowd at the Mzuzu Stadium in Malawi. At the time, Bushiri's was just a year old in his ministry and had started just started ECG in Malawi, they then established a branch of the church in South Africa the following year.
The marriage between the founders of ECG has given rise to two children, Israella and Raphaella. Unfortunately, Israella, their eight-year-old daughter, passed on on 29th March 2021 in a Kenyan hospital after suffering from a lung condition.
Following the tragic loss of their daughter Israella, Mary Zgambo Bushiri and Prophet Shepherd Bushiri found themselves leaning even more on their faith and the support of their congregation. The couple, already known for their resilience and dedication to their ministry, became a beacon of strength for many who were facing their own personal challenges.
Mary, drawing from her personal experiences, began to focus her sermons on the themes of healing, hope, and resilience. She often shared personal anecdotes, emphasizing the importance of faith during trying times. Her genuine and heartfelt messages resonated deeply with the congregation, leading to a significant increase in the number of attendees at the ECG church.
Outside of her preaching, Mary continued to use her background in accounting to manage the finances of the church. Under her astute financial guidance, ECG expanded its outreach programs, providing aid to the less fortunate in both Malawi and South Africa. The church also established scholarship programs for underprivileged children, a cause close to Mary's heart, especially after the loss of her daughter.
You can now view Mary Bushiri pictures.
Latest posts by Wisdom Mayuni
(see all)