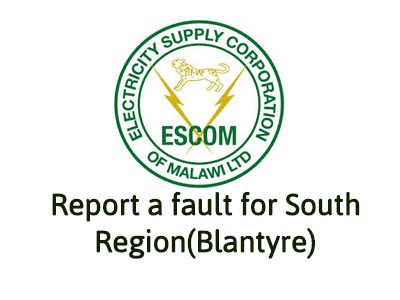 How to report Escom Malawi Fault for Southern Region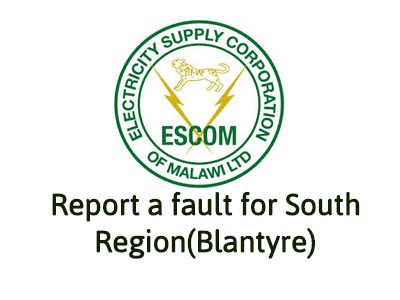 Hello everyone, on this page you will find out how to report an Escom fault for the Southern region of Malawi which includes the commercial city Blantyre, Zomba, Limbe, Mangochi and other surrounding cities.
It is certainly frustrating to have any electricity fault, especially one that makes your house, flat(apartment), or building not have lights. We are living in a digital age and electricity is more than just essential, it is a necessity. With that said, we hope this page helps you contact the right people to help you solve your problems right away. Remember, it is your tax money that funds Escom, you have every right to ask for help and it is their duty to help you. Let us know if we need to update any information below by contacting us. You can also find out how to report a fault for a city in the central region and northern region of Malawi.
NOTE: Since April 2023: You can call 3030 for free on Airtel and TNM to reach Escom support without using your minutes/units if you are in Blantyre.
Report Escom fault in Blantyre Main
Escom Fault Blantyre Contact Numbers
AREAS COVERED: Blantyre City, Namiwawa, MDC, Chilomoni, Chigwaja Fargo, Sigelege, Michiru, Mbayani, Chemusa, Chirimba, Mitsidi, KabulaKameza, Chileka, Chimembe, Chavala, Dziwe, Chikuli, Kumthembwe, Khobwe, Ngumbe, Lunzu, Chilaweni, Maleule, Matindi, Lirangwe, Lundu, Mdeka.
Report Escom Fault in Zomba
Zomba Escom fault Contact Numbers
0881 506795
0885 913692
01 524188
0888 798647
0885 913666
01 524236
AREAS COVERED: Zomba Central, Kalimbuka, Old Naisi, Chinamwali, Matawale, Namwera Turnoff, Machinga, Jali, Thondwe, Mayaka, Namadzi,Chingale, Changalume, Masaula, Chipini Nasawa, Domasi, Malosa.
Report Escom Fault in Limbe
Limbe Escom fault Contact Numbers
0885 913 665
0885 979 650
0885 979 745
AREAS COVERED: Limbe Central, Kanjedza, Maselema, Stadium, Mudi, Yiannakis, Mpingwe, Kachere, Nkolokoti, Walala, Mapanda, Chiradzulu, Mzedi, PIM, Maone, Machinjiri, Bangwe, Sinyala, Masala, Njuli, Thumbwe, Milepa, Jenala, Masanjala, Jenala, Ndunde, Chingoti, Nyalungwe School, Chikaonda, Chimpesa, Milepa, Nasulu, Thumbwe, St Tereza, Mayela, Masuku, Chikwakwati, Manachiya, Malota, Namalamba, Nalonda.
Report Escom Fault in Chichiri
Chichiri Escom fault Contact Numbers
0885 913724
0885 979651
0999 258323
AREAS COVERED:  Ginnery Corner, Kidney Crescent, Mandala, Mount Pleasant, Sunnyside, CI, Old Naperi, New Naperi, Manase, Manyowe, Pensulo, Nancholi, Baluti, Green Corner, Mpemba, ChadzundaMilare, Madziabango, Mpingu, Ndirande, Makata Industrial Area, Magalasi,Chirimba Industrial Area, HHI, Chichiri, Nyambadwe, Kameza, Wenera, Mbayani Ndalama, Part of Machinjiri, West of the Railway line, Magalasi.
Report Escom Fault in Mangochi
Mangochi Escom fault Contact Numbers
0885 913634
0885 742277
0999 393093
0885 979792
AREAS COVERED: Sun 'n' Sand, MALDECO, CPL, Namiyasi, Mangochi Boma, Chilipa, Makanjira, Malindi, Namwera, Chiponde, Part of Nselema, Chimwala, Mpale, katuli, kwisimba, chapola, Masanje.
Report Escom Fault in Monkey-Bay
Monkey-Bay Escom fault Contact Numbers
0888 271213
0885 913635
0992 069331
0888 592 877
0885 913 640
AREAS COVERED: Ntakantaka Turn off, Chilombo Bay, Cape Maclear, Monkey-Bay, Malembo, Sauya, Chantulo.
Report Escom Fault in Mulanje
Mulanje Escom fault Contact Numbers
0888 913872
0885 913626
0888 850255
0885 913683
0999 561053
AREAS COVERED: Ndata, Mikolongwe, Nkando, Chinakanaka, Chonde, Mbiza, Chinyama Health Centre, Chisutu, Mulanje Boma,
Limbuli, Muloza Border, Chambe, Kambenje, Phalombe, Boma, Migowi, Chiringa, Miseu Folo, Chitekesa, Mitekete, Phwechiwa, Namasoko, Mpasa, Namikhaka, Namachete,
Msema, Namba, Mambala, DzenjeMaster, Chisawani, Mangwana, Muliya, Mfumu yaikazi, Nalikata, NambitiTambala, Mtepuwa, Namtombozi, Wasi, Misuli, Thundu, Maveya, Chanunkha.
Report Escom Fault in Thyolo
Thyolo Escom fault Contact Numbers
0885 005374
0885 913749
0888 576551
0885 913653
01 473061
AREAS COVERED: Bvumbwe, Thunga, Makande, Thyolo Boma, Luchenza, Goliyati, Khonjeni, Makwasa, Masambanjati, Molele, Satemwa, Naming'omba, Conforzi, Gotha, Mitengo, Zoa Thekerani, Folopesi, Didimu, Chibwana, Chipho ,Didi, Gogoya, Kadzuwa ,Lalakani, Khwethemule, Makapwa, Mankhamba Mlenga, Nang'ombe, Ngomanoc, Chisoka, Sandama and Nzuwa Chisunga. Nansonia.
Report Escom Fault in Kwacha
Kwacha Escom fault Contact Numbers
AREAS COVERED: Njamba, Kwacha, Nkolokosa, Chitawira, Naperi, Manja, Chimwankhunda, Zingwangwa, Soche East, Misesa, ITG, Namame, Soche Quarry, Angelo Goveya, Limbe Police, Chiwembe, BCA Hill, Mavuto Branch, Newlands, Chigumula, Bvumbwe-Nantipwili, Namiyango, Chilobwe, Malingamoyo.
Report Escom Fault in Nchalo
Nchalo Escom fault Contact Numbers
0881 950014
0885 913669
0999 390 056
0886 632530
0885 913750
01 424350
AREAS COVERED: Nsangwe, Konzere, Nyaikha, Saopa, Mkumaniza, Miseu 4, Mphungu, Jombo, Thabwa, Dembo, Nkhate, Masenjere, Phimbi, Oleole, SavalaDolo, Changoima, Chikweu, Gaga, Ndakwera,Domasi, ThendoThom, Bereu, Tomali, Maseya, Kapasule, Kasinthula, Chikwawa Boma, Nchalo, Chapananga, Ngabu,Dyeratu, Flood Shelter,  Mitondo, Livunzu, Mapelera, MferaMlilima, Liwonde, Kapichira, Kasisi, Bwalo, Muonda, Novu, Tombondera Kanyongolo, Phwazi, Kakoma, Mthumba, Chinangwa.
Report Escom Fault in Mwanza
Mwanza Escom fault Contact Numbers
0885 913 760
01 532324
0888 552683
0885 983793
AREAS COVERED: Mwanza Boma, Mwanza Border, Zobue, Kunenekude, AGMA Estate, Liwonde, Chikolosa, Msakambewa, Thambani, Thambala, Zalewa, Magaleta, Ligowe, Neno Mission, Neno Boma, Kaponda, Lisungwi, Chisi, Mdeka, Nkula, Tedzani, Midzemba, Kammwamba, Matope Liebig, Mbemba, Makali.
Report Escom Fault in
Bangula
Bangula

Escom fault Contact Numbers
0995 812213
0888 870737
0885 983792
01 532320
AREAS COVERED: Sorgin, Bangula, Phokera, Tengani, Nthondo, Chididi, Nyamithuthu, Nyamula, Kanyimbiri, Chibuli, NkhandeTchekerere, Gabu, Mbangu, Zwangeti, Mlonda, Chigumukire, Gooke.
Report Escom Fault in Nsanje
Nsanje Escom fault Contact Numbers
0884 016171
0888 347703
0999 521554
AREAS COVERED: Nsanje Boma, Mbenje, Ntowe, Marka, Lulwe.
Report Escom Fault in Fatima
Fatima Escom fault Contact Numbers
AREAS COVERED: Fatima, Chinyanje, Mbwazi, Makhanga, Sankhulani.
Report Escom Fault in Liwonde
Liwonde Escom fault Contact Numbers
0990 054776
0885 913720
0995 529047
0885 913841
AREAS COVERED: Liwonde, Chingale Turnoff, Ulongwe, Mwima, Utale,Dziwe,SemaniNandumbo, Demeter, Phimbi, Kwitanda, Chendausiku,Highway, NamanoloMulipa, Mpotola, Nsanama, Ntaja, Nselema, Namandanje,Chilanga, Balaka T/OffKapoloma, Chikwewo, Nampeya, Ngokwe, Mkwepere,Linya,Chiundu,MpiriLikhonyowa, Mbanira, Nayuchi,Mlomba,MalunduniMpapa, Umbwa, Nyenje.
Report Escom Fault in Ntcheu
Ntcheu Escom fault Contact Numbers
0885 913718
01 552 691
0888 619813
0885 913715
AREAS COVERED: Phalula, Senzani, Manjawira, Chingeni, Balaka Boma, Kapire, Kachenga, Mbera, Khwisa, Kankao, Mfulanjovu, Mtonda, Mtsimuke Nachitheme, Bawi, Zembani, Bula, Nsipe, Kampepuza, Champiti, Salima T- Off, Ntcheu Boma, Kanzingeni, Madzanje, Dzoole, Dombole, Chiole, Nkhande, Ntcheu Peak, Kalitsiro, Kachipeya,Mphepo Zinayi, Ntumba, Kabekele, Kandewu, Bwanje, Chitsulo, Mwalaoyera, penga penga, Bilira, Kabwazi, Chikhamwazi, Kanyimbo, Ngalande, Biliwiri, Border Post, Tsangano T-Off, Ndongera, Chitsinga, Mzama, Kaloga, Sela, Kambilonjo, Zinga`nda, Muuso, Biliyati, Katsekera, Doviko, Lisungwi, Tsangano Proper, Gochi, Kalanzi, Njolomole, Lakeview Campus, Mlangeni Police Training College, Gowa Mission, Mlangeni Health Centre, Mlangeni Trading Centre, Makwangwala, Chisoni.
Latest posts by Wisdom Mayuni
(see all)