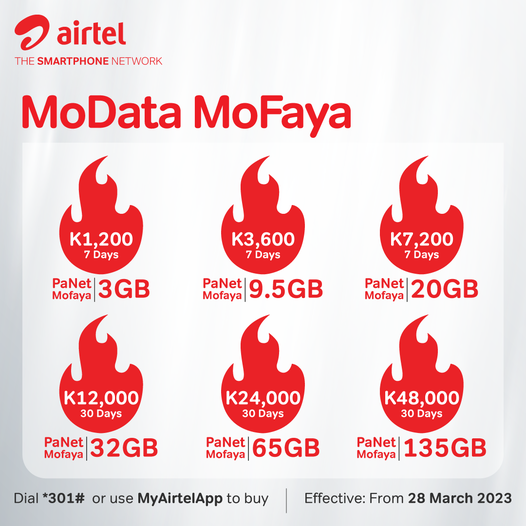 Airtel Mofaya Data Bundles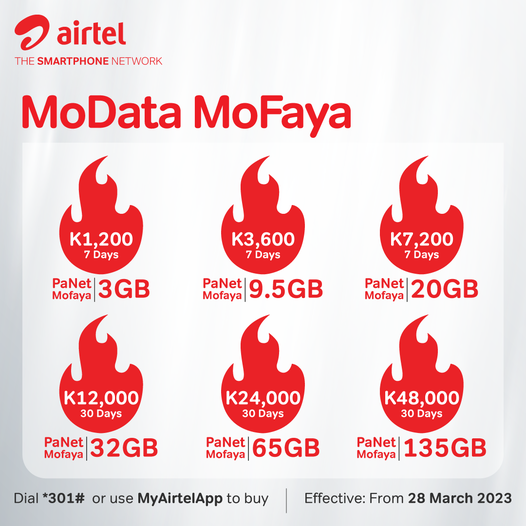 Hello everyone, on this page you learn about Airtel Malawi Mofaya volume bundles which are data bundles that are meant to attract those of you that use the internet for streaming, downloading various media and information without worrying about speed restrictions.
The bundles range from daily, weekly and monthly in period and from K600 to K48,000 in value offering customers a wide range to choose from.
NOTE: Airtel Malawi on November 9th 2022 adjusted their prices and INCREASED the cost of MoFaya bundles by reducing the amount of GBs for each plan. We have updated the prices below. This is very unfortunate and unfair to Airtel Malawi customers. We suggest you let your voices be heard by posting your opinions on their social media pages.
UPDATE: Airtel Malawi on March 28th 2023 has again adjusted their MoFaya bundles by increasing the amount of GBs for some of their plans while at least this time keeping the same price. This a bit better and it seems your voices were heard, let's continue to let our voices heard.
What are Airtel Mofaya Bundles?
Mofaya bundles are data bundles that provide uninterrupted access to customers for a day, week or a month without speed restrictions.
You can use Airtel's Mofaya bundles on any internet platform of their choice including but not limited to WhatsApp, Facebook, Twitter, Netflix, Gmail, YouTube, TikTok, Instagram, Spotify, Amazon Prime, etc.
Mofaya bundles were a direct response to TNM's Pamtsetse data bundles.
List of Airtel Mofaya Bundles
| Price (MWK) | Validity | Time of Use | Your GBs |
| --- | --- | --- | --- |
| K600 | 24 hours | Anytime | 1.1 GB |
| K1,200 | 24 hours | Anytime | 2.2 GB |
| K3,600 | 7 days | Anytime | 9.5 GB |
| K7,200 | 7 days | Anytime | 20 GB |
| K12,000 | 1 Month | Anytime | 32 GB |
| K24,000 | 1 Month | Anytime | 65 GB |
| K48,000 | 1 Month | Anytime | 135 GB |
How to buy Airtel Mofaya Bundles
PaNet MoFaya bundles are available for purchase via *301# USSD, Airtel Money and My Airtel App.
Latest posts by Wisdom Mayuni
(see all)