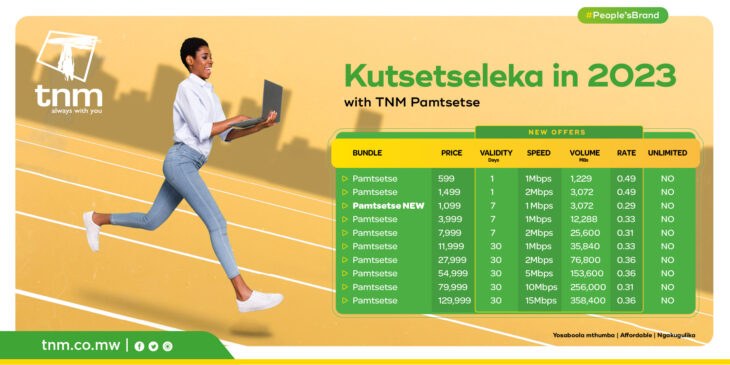 TNM Unlimited Data Bundles Pamtsetse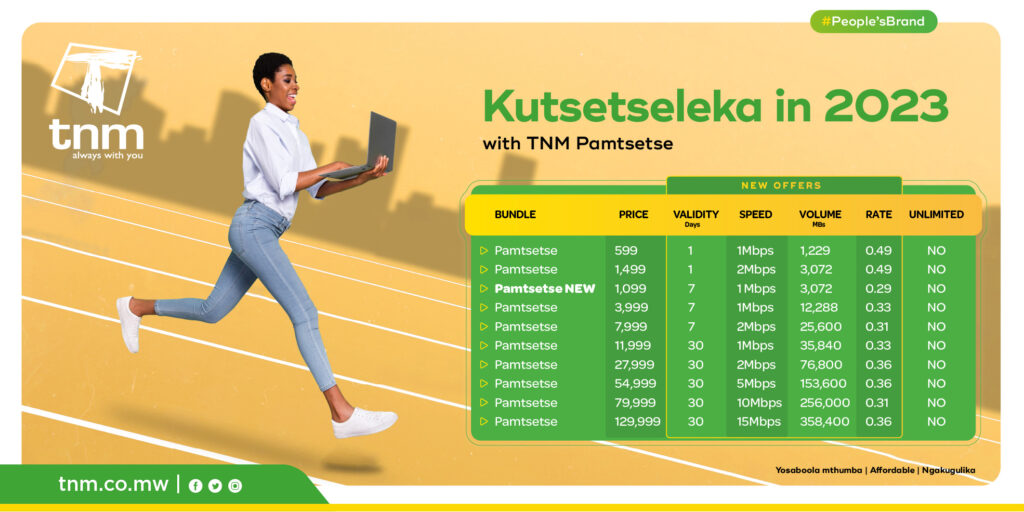 Hello everyone, on this page you learn about TNM Pamtsetse Unlimited Data which are data bundles that are somewhat 'unlimited', they still come with a FUP(Fair Usage Policy) that you have to read and understand but the good thing is that these bundles expire based on period and not volume hence the term "unlimited".
The bundles range from daily, weekly and monthly in period and from K600 to K129,999 in value offering customers a wide range to choose from.
UPDATE: On January 8th 2023, TNM updated it's pricing for the Pamtsetse packages.
They have increased the price per bundle.
Reduced the amount of GBs they give you per bundle.
They have removed the 'Unlimited' part of the bundle, meaning your bundle will expire as soon as you use up your GBs.
This is unfortunate but not surprising, the telecommunication sector in Malawi exploits it's citizens. Airtel Malawi and TNM data prices need to be regulated by the likes of Macra or perhaps another independent body. We here at BusinessMalawi.com will fight for that, starting today. If you have suggestions on how we can reduce data charges in Malawi, please contact us or leave a comment, thanks.
What are TNM Pamtsetse Bundles?
Pamtsetse packages are data bundles that provide uninterrupted internet access to customers for a day, week or a month. The packages range from 1Mpbs to 15Mbps to cover for diverse customer requirements. These packages are available to prepaid customers only.
You can use TNM's Pamtsetse bundles on any internet platform of their choice including but not limited to WhatsApp, Facebook, Twitter, Gmail, YouTube, TikTok, Instagram, Spotify, Amazon Prime, etc.
If you have an Airtel phone or broadband device, you can try Airtel Mofaya bundles.
List of TNM Pamtsetse Bundles
How to buy Pamtsetse Unlimited Bundles
Using TNM Smart App (recommended)
Open your TNM Smart App.
Select Recharges tab.
Select Internet tab.
Choose your preferred Bundle.
Using USSD
Dial *202#
Select 2 for Internet Bundles.
Select 1 for Pamtsetse Unlimited Bundles.
Choose your preferred Bundle.
What is Pamtsetse Fair Usage Policy(FUP)?
The Pamtsetse fair usage policy or commonly known as FUP, is a policy initiated by TNM that governs the usage of these "Unlimited" bundles. Like I said in the beginning of this post, these bundles are not truly unlimited because each bundle has it's own GB limit, for example, let's say you buy the MK10,000 pamtsetse bundle, which gives you 1 month to use it, speed of 1Mbps and your GB limit for this bundle is 50GB, after you use 50GB, your speed will automatically drop to 512Kbps which is very, very slow and down right illegal in most countries for speeds to be this slow. Some TNM users have also claimed that the speeds drop BEFORE you each reach your FUP GB limit, either way, check your speeds and let us know what you experience, we will pass it on to TNM. I hope that makes some sense, if not, please send us an email or drop a comment below.
 [ Download Pamtsetse fair usage policy ]
Latest posts by Wisdom Mayuni
(see all)