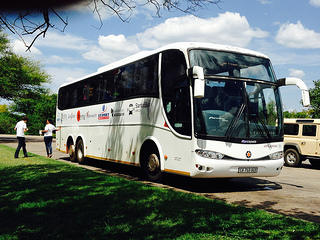 MTN, SAP, Microsoft, Inmarsat and Merck sponsor AMPION Africa
Four leading global technology companies have come out in support for AMPION  as its major sponsors to enable entrepreneurial talent in Africa develop innovative solutions on the continent by making best use of the power of mobile technology.
Africas largest mobile phone provider MTN as well as SAP and Microsoft will financially support AMPION's 2014 operations and enable the newly established NGO to successfully operate on a pan-African level and generate long-term impact. Free hardware and bandwidth granted by Inmarsat will provide the AMPION Venture Buses with satellite connectivity.
Microsoft will additionally provide a package of free software and training to winning startups of the 2014 AMPION Venture Buses. Interested entrepreneurs, designers and coders still have a chance to apply for a seat on the Venture Buses online. More than 700 applications from all over the world have been reviewed by AMPION as of today for the 180 seats on the Venture Buses.
Global healthcare leader Merck will be AMPION's prime sponsor for the East African Venture Bus. Participants on the Venture Bus travelling from Tanzania to Rwanda will specifically focus on developing e-Health solutions. The East African Venture Bus will be accompanied by a CEO-selected Merck representative. E-Health experts are specifically encouraged to apply for this Venture Bus.
In September 2014, AMPION had launched two crowdfunding campaigns to aid with operational costs and to finance an extensive Fellowship Program for the most promising start-ups; the first crowdfunding campaign on 1%Club has now been successfully completed and is being granted 70% of its €15.000 funding goal through The Cheetah Fund, which is powered by the Dutch National Postcode Lottery.
AMPION will utilise this momentum to mobilise support for its remaining crowdfunding campaign on Indiegogo. Reaching the overall crowdfunding goal of €50,000 will enable AMPION to set up a Fellowship Programme for a maximum amount of African start-ups and entrepreneurs with considerable funding and incubation.
Commenting on the strategic partnerships, Fabian-Carlos Guhl Founder & MD, AMPION, said:"We are delighted to work with our new sponsors MTN, SAP, Microsoft, Inmarsat and Merck in Africa. Sponsoring and partnering with AMPION is an investment into the African mobile technology, start-ups and ICT space of tomorrow – and the creative entrepreneurs behind it. We are proud that world leading companies are convinced that our work is making a difference and decided to be a part of it."
Latest posts by Wisdom Mayuni
(see all)