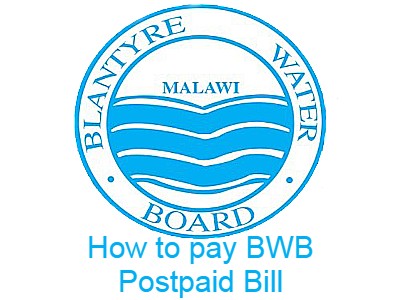 Blantyre Water Board Bill Payment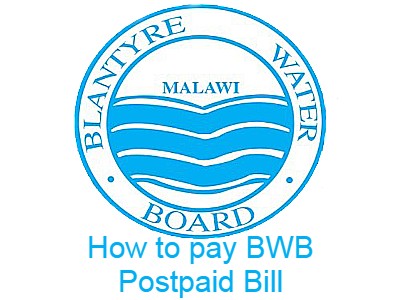 On this page you will be able to find out how to pay a Blantyre Water Board bill or what we generally call in Malawi, Postpaid tokens from BWB. This method of having water is of course different from the preferred and more commonly used method of buying Prepaid tokens from Blantyre Water Board.
What are BWB Postpaid Tokens?
Postpaid water service from Blantyre Water Board is when you're charged for your service on a monthly basis after you use it, so you don't need to worry about having money for water service on a daily basis.
Postpaid service from Blantyre Water Board includes monthly billing that typically gives you a warning if you do not pay the bill by the due date, you'll soon after that receive a disconnect notice and you might be charged a reconnection fee if they do disconnect your water.
Remember, it is a requirement that all bills should be settled within a period of 30 days, failing which a customer is disconnected and compelled to settle the total bill plus a reconnection fee of 5,000 kwacha.
Check your BWB Postpaid Balance online
To check your Postpaid balance for your Blantyre Water Board meter, you simply go here: https://bwb.mw/PostPaidBillEnquiry.php
How to pay your BWB Postpaid Bill
You have typically two methods, you can pay using your mobile phone and any of the listed apps below or you can go to the official BWB offices, we would recommend trying to settle your postpaid bill by using the Mobile payment method first.
Pay BWB Postpaid bill by using Bank & Mobile payment systems:
Airtel Money
TNM Mpamba
Ecobank Mobile
FDH Mobile
Ned Bank
FCB Bank
National Bank
Pay BWB Postpaid bill by visiting a physical office:
Chichiri Service Centre at Northgate Arcade along Chipembere Highway
Blantyre Service Centre, Everest House, along Lower Scatter Road
Limbe Service Centre in Lonhro House along Churchill Road
Kameza Service Centre at Petroda Mall at Chileka Roundabout
Soche Service Centre at Soche East Mall at Kudya along Kapeni Road
If you wish to share any other methods that allow you to pay your Postpaid bill, please contact us and we will add it on this page.
Latest posts by Wisdom Mayuni
(see all)