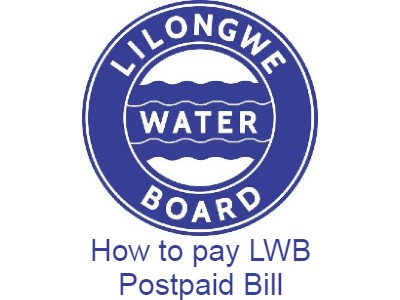 Lilongwe Water Board Bill Payment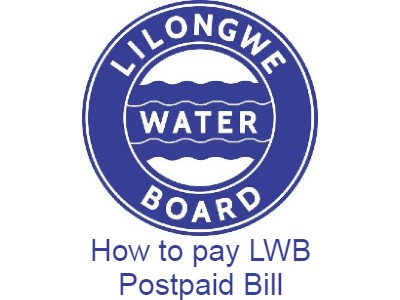 On this page you will be able to find out how to pay a Lilongwe Water Board bill or what we generally call in Malawi, Postpaid tokens from LWB. This method of having water is of course different from the preferred and more commonly used method of buying Prepaid tokens from Lilongwe Water Board.
What are LWB Postpaid Tokens?
Postpaid water service from Lilongwe Water Board is when you're charged for your service on a monthly basis after you use it, so you don't need to worry about having money for water service on a daily basis.
Postpaid service from Lilongwe Water Board includes monthly billing that typically gives you a warning if you do not pay the bill by the due date, you'll soon after that receive a disconnect notice and you might be charged a reconnection fee if they do disconnect your water.
Check your LWB Postpaid Balance online
To check your Postpaid balance for your Lilongwe Water Board meter, you simply go here: https://www.lwb.mw/check-your-bill/
How to pay your LWB Postpaid Bill
You have typically two methods, you can pay using your mobile phone and any of the listed apps below or you can go to the official LWB offices, we would recommend trying to settle your postpaid bill by using the Mobile payment method first.
Pay LWB Postpaid bill by using Mobile payment systems:
Airtel Money
TNM Mpamba
Ecobank Mobile
FDH Mobile
Pay LWB Postpaid bill by visiting a physical office:
Southern Zone LWB Office Old Kalikuti Hotel Premises (opposite Petroda Filling Station) & Head office at Madzi House.
Area 1 (Falls Estate), Area 2, Area 7, Area 8 (Biwi and Mchesi), Area 21(Chilinde), Area 22, Area 23 (Kawale), Area 24 (Ngwenya), Area 35 (Kamuzu Barracks), Area 36 (Phwetekele), Area 44 and Area 59.
Central Zone LWB Office Lilongwe Mall Service Centre(Pa Game – opposite Airtel) & Area 10 (behind MCA) & Head office at Madzi House.
Area 3, Area 4, Area 5, Area 6, Area 9, Area 10, Area 11, Area 12, Area 13, Area 16, Area 17, area 18, Area 19, Area 20, Area 31, area 32, Area 33, Area 40, Area 46 (Chinsapo) and Area 47.
Northern Zone LWB Office (Kanengo along M1 road before MIM turn-off) & Head office at Madzi House.
Area 25, Area 26, Area 27, Area 28, Area 29 (Kanengo Industrial Area), Area 30, Area 49, Area 50 (Mgona, Senti and Chimoka), Area 51, Area 52 (Kamuzu International Airport), Area 53 (Lumbadzi) and Area 56 (Mtandire, Mtsiriza and Piasani).
If you wish to share any other methods that allow you to pay your Postpaid bill, please contact us and we will add it on this page.
Latest posts by Wisdom Mayuni
(see all)