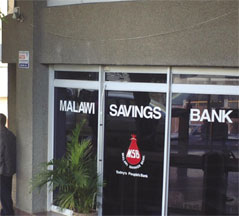 MSB ERECTING NEW OFFICES IN BALAKA
The Malawi Savings Bank (MSB) plans to give its customers new breathing space with construction of a new building that will house its Balaka offices. Once the construction is over and the bank moves its offices into the new building, it will be a relief to both customers and the bank's service men as there will be a little more business space. All along, MSB has been operating in a Balaka Post Office building that lies next to Balaka Stadium.
There is remarkable progress on the construction site. Every morning sun sees determined workers rushing to the site in their numbers. The mid day sun doesn't see them rest. It is dust all over the sky. These are men working towards a deadline.
The building that will house the bank when fully erected replaces an old party house on the side of the road that lies directly opposite to where the bank's offices are today. The piece once harbored a UDF office when Dr Bakili Muluzi was president, DPP when Late Ngwazi Prof. Bingu wa Mutharika was the country's leader and PP when Dr Joyce Banda assumed the mantle.
Now, it is every customer of the bank who will have to rejoice. Though this is a welcome development, some are still worried. This worry is nothing to do with the services offered by the bank in the district though. It is a worry that has always been in their heads. The infrastructure that is being raised by all companies, institutions and businessmen is way sub-standard, whatever substandard means to them.
"Look at the building over there, it was constructed over 20 years ago but you can roam around the town and you won't find its match," says some irritated passerby from the town who is so obsessed with the town's development.
The building he points at lies next to a Puma feeling station and is the only double storey business apartment in the district. It currently houses the district's agricultural offices. "How do you expect the town to grow when all we can do is buy a large piece of land for construction of a single-roomed building?"
He and a lot others pray that the MSB construction site gives the town a new face. He is not the bank's customer though. If the bank satisfies his soul, who knows, it might mark a completely new chapter in wooing customers to bank with them in a town that has four other well known banks namely NB, NBS, Standard and OIBM.
Latest posts by Beaton Galafa
(see all)