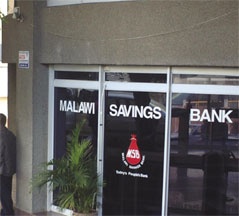 Sale of state-owned MSB takes new twist as parliament opens the floor to public debate
Pressure continues to mount on the plans by government to sell Malawi Savings Bank with parliament referring the matter to members of the general public to give their views on the proposed sale. In a statement signed by acting clerk of parliament Roosevelt Gondwe, parliament seeks to solicit views to help shape the deliberations on the matter during the next sitting.
The National Assembly's spokesperson, Leonard Mengezi, said in an interview with Zodiak Broadcasting Station that the house had resolved in its last meeting that the sale of MSB be referred to the Budget and finance Committee of parliament. He added that the press statement that has been released is requesting members of the general public to give their views as part of consultations so that they get the views of the people since the bank belongs to them.
Asked on whether the bank's sale will depend on the outcome of the consultation process, Mengezi said that it is the executive from the ministry of finance which has got the mandate to handle the issue. He however said parliament must oversee the sale at all cost because MSB was established through an act of parliament and it is for that reason that they want to see to it that the public gives its views. He also added that most of the people in the rural areas would lack access to banking services if the bank is to be sold to the private sector, citing the private sector's being profit-oriented as a reason behind that fear.
Mengezi did not say what parliament will exactly do but he was quick to say parliament will only advise government on the best way forward should a general consensus object to the move. It will then be up to government to heed to the advice or go ahead with the move.
Meanwhile, MSB employees have threatened industrial action if the bank management does not backtrack on the sale by Monday. In a memo copied to parliament, ministry of finance and heads of departments within the bank, the concerned members of staff have demanded an ouster of the current Chief Executive Officer Ian Bonongwe for alleged failure to manage the bank. Mr. Bonongwe has acknowledged receipt of the memo but expressed reservations because he says the memo has not been signed anywhere. He says the memo claims to have come from the bank's junior staff. He also rubbished off the memo saying it lacks good timing and the concerns raised are not sound.
However, prominent lawyer Wapona Kita has faulted government for failing to use its mandate to get the deal done without using parliament. Speaking to ZBS earlier on Saturday, the lawyer said government is mandated to run the sale of the bank without involving parliament. Reports show that government has already started the bidding process.
Latest posts by Beaton Galafa
(see all)